Cookie Notification
Create a sleek and beautfiul Cookie Notification Popup
This is an Auto Open Trigger popup. It will trigger automatically at the bottom of the screen. Clicking the "Got It!" button will close the popup and create a Cookie that lasts one month, preventing the popup from opening again for that time period.
If you want to see the popup again, clear the Cookie by clicking the button below, then refresh the page.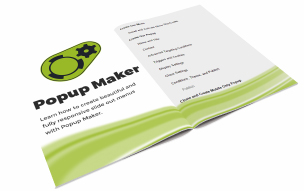 Need a Cookie Notification Popup for your site? Read the complete guide that will walk you through the entire creation process from start to finish!
Turbo-charge Your Website Performance
Learn why Popup Maker is the #1 popup plugin for WordPress.
Proven plugin, ironclad results.